Please make sure you have read all the
rules
before coming here and posting.
Fill out this form:
Title #1:
Where to find raw:
Genre:
Shipping Couple:
Pages:
Total $:
Specific Day you want me to finish by?:
*Private or Public link:
Any other comment:
Title #2
and so forth....
*Private= I PM you the completed work.
Public= I post in completed section and you allow others to see it.
After you comment, send me a PM with your email address. I will then ask you for a deposit of half the price before I start and the other half after I'm done. I accept Paypal, using GIFT option.
This is where you make the Requests.
Negotiable prices!
(
Read more...
Collapse
)
Sellling Nanoha, Madoka, Bakemonogatari, and K-on Petits!
Prices are negotiable.
Ship from California. Paypal only.
Summaries (to be updated in cut)
If you are interested in any of these but don't see the information below leave me a comment and I'll put it up!
(
Read more...
Collapse
)
Selling Doujin from Umineko, Howl's Moving Castle, Fate Zero, and Tiger and Bunny!
8/16 Update: Most of the items are at the proxy. there are still 8 preorders that haven't arrived yet though. Will let you guys know when they invoice for shipping!
8/22 Update: ALL OF THE ITEMS ARE WITH THE PROXY. Waiting for their invoice.
8/28: Still waiting for Proxy to give me an invoice... they are taking a bit long because of the crazy amount of Comiket orders they got in the past weekish or so.
8/29: Invoiced and paid. The shipping cost alot more than I thought it would so I will have to crunch out those numbers soon and let you all know how much everything is!
8/30:
Shipped! Am now going to wait for the 3-5 days that EMS promised. Hopefully the weekends won't make it last longer. While waiting I'll be invoicing.
9/04: Items have all arrived. Am shipping out on Thursday. Please send me your payment if you still have NOT done so.
9/07: Phase 2 opened! Will be open until 9/10.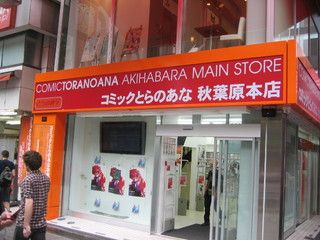 What's this?
DOUJINLAND?
No, it's just
TORANOANA!
This will be for
August
! Perfectly on time for Comiket swag. That doesn't mean that it's only limited to Comiket though!
Website
(THIS SITE IS NSFW!)
Comiket specifically
More blah blah info
[*] I'll be accepting orders until
9/10
[*]I would like to have payments within 3 days, but if you need more time, please let me know
AHEAD
of time.
[*]Prices are in yen.
[*]If you really want to get R-18 stuff, please make sure that the cover isn't too inappropriate. My friend was able to get her BL doujin through without much problem, but I would hope that there aren't much (if any problems with customs)
[*]And I'm willing to do overseas shipping (I'm located in California in the USA) but just so you know, it will probably cost a bit more to ship internationally than if you were to be domestic.
[*]If we get over 8,000yen there's free domestic shipping to the proxy
[*]We will split proxy fees depending on how many people there are
[*]The more people there are the cheaper it will be!
EDIT: Please tell me which country/state you are so I can also guesstimate shipping from me to you, thanks!
There will be 2 Rounds of invoices. First round of invoice will be
Round 1
Items
Round 2
Domestic shipping (in Japan) + Proxy Fee+International Transaction fee+International Shipping+ Shipping from me to you (Cheapest is Media Mail for books)


EDIT:

You are only confirmed for the Group Order once you pm me your address telling me that you confirm your order! Otherwise I assume you don't want to, so I will not add you to it.

Current participants:
nunu_papyrus shipped 9/06 Received 9/09
gothy_asch shipped 9/11 Received 9/14
venia_86 shipped 9/06 Received 9/21
rozalin_77 shipped 9/11 Received 9/14
crede Shipped 9/06
(
Read more...
Collapse
)
Thank you for your interest! The order is now closed! I had to close it a day early because I am running out of credit card limit to fund this (there was a lot more interest than I thought!). So sorry if you were interested but didn't post, maybe next time!
in progress DONE. 59pages. 7/21
1st Comission


1. Please post in the Requests Section
2. No lolicon! No Guro. No Scat.
3. 18+ Doujin are welcome.
4. For commission, you can either
a) Scan the Doujin
b) have the Doujin raw from the internet
c) link me to where I can find the raw
d) either way you need to give me a link to the actual thing!


If you have any questions, ask in this post. Thanks!
There aren't many of them


20 pages or less $5USD
20-30 pages $7USD
30-40 pages $10 USD
40-60 pages $15USD
60+ let me know!

Edited Fees From 7/18/2012 on:

The base rate for translation is .45 for text translation per page, however the actual price may very depending on the amount of text present, the number of bubbles, and other factors. Generally, if a page has only 5 bubbles and 50ish or less words, it will probably be .55. .45 cents.

I just realized how much work/time it took, so I googled some rates and found it much more satisfactory.
Here is how the Fee breakdown is:
Although a lot of them are being translated into English, that's only a bit of the whole doujin collection that keeps coming out everyday.
Do you have a doujin that is in NO way ever going to be translated because it's not popular enough?
Can't make out left from right in Japanese? Don't worry!
I can help you out! I will translate ANY doujinshi you have. Except since I don't have photoshop it's not going to look so good. So you can choose to either have me type it out into a word document or actually literally write it in the Raw.
Also if you make ask for a scanlation make sure you let me know if you want it to be public or only available to you.
For requests, make sure it fits the
rules
! For information on Fees, read
here
For requests, please make them
here.
I recently got into Doujinshi!